Fall Fertilization is the most effective method for fertilizing trees and shrubs, typically done in late fall. Through this process, a liquid time-release fertilizer is applied to the surface of the ground, drenching the root zone and not applied on the plant itself.
The liquid fertilizer blend is scientifically formulated to deliver high quality nutrients to trees / shrubs and promote better resistance to disease and drought. Proper nourishment will help your plants grow stronger from the roots upward. Fall Fertilization can help keep your trees and shrubs healthier, promoting the luxurious foliage that adds beauty and value to your property.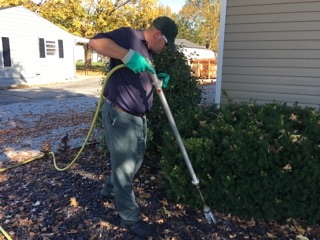 Our GatorGuarantee for all customers: If you're not satisfied with our service, we'll return to your property, free of charge. And if you're still not happy, we'll refund your last application and pay you $25 for your trouble!
Insects & Diseases
Ornamental trees, shrubs and floral plant-scapes will add beauty to any home or business and can significantly increase the value of any property. Our tree and shrub insect & disease control program will eliminate and restrain damaging insects.
During the growing season, landscape ornamental trees and shrubs are both growing above and below the ground. Providing nutrients at this time will typically be used up by excessive unhealthy foliage growth; if done late during the growing season, this may not allow enough time to harden off before the winter season. This service targets the development of the root system, therefore must be done after the growing season and just prior to the winter season. The products we use are scientifically proven formulations of quality nutrients that provide root development and maximum efficiency of foliage development the following spring.
No, both newly planted and mature landscape ornamental trees and shrubs will benefit from the controlled release nitrogen in Fall Fertilization.
The purpose of this application is to provide nutrients to the root system for both growth and health of the overall tree or plant. Spraying the product directly on the branches will not trans-locate to the root zone. Drenching the soil around the drip line ensures that the fertilizer will be absorbed by the root system.