We offer the following services for Ornamental Trees and Shrubs:
Insect & Disease Control
Ornamental trees, shrubs and floral plant-scapes will add beauty to any home or business and can add significant value to any property. Our program will control damaging insects such as Japanese beetles, bag-worms, mites, grasshoppers and other leaf-chewing insects. Our ornamental trees and shrubs program includes a combination of dormant oil, contact & systemic insecticides, and fungicide products that will protect all of your valuable ornamental trees, shrubs, landscape plantings and floral plant-scapes.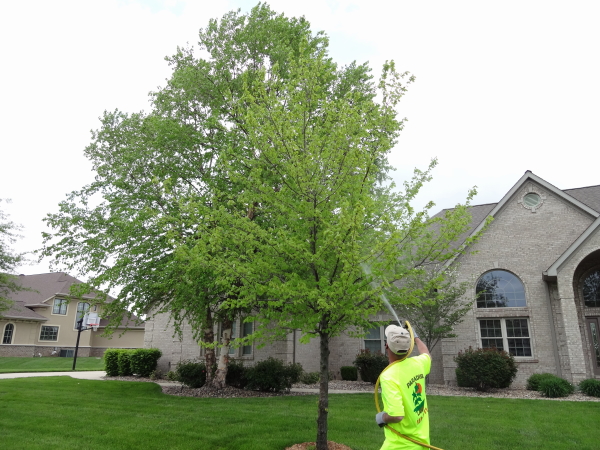 ---
Deep Root Fertilization
Deep Root Fertilization is the most effective method for fertilizing trees and shrubs, typically done in late fall. Through this process, a liquid, time-released fertilizer is pressure-injected in a grid pattern below the surface of the ground, down into the root zone of the tree or shrub and not applied on the surface of the ground or on the plant itself. Well nourished trees and shrubs have better resistance to disease and drought. Deep root fertilizing can help keep your trees and shrubs healthier, promoting the luxurious foliage that adds beauty and value to your property.
---
Emerald Ash Borer (EAB) Protection
Prior to June of 2002, the Emerald Ash Borer had never been found in North America. It was first discovered in southeast Michigan and has been spreading ever since. On June 9, 2006, the Emerald Ash Borer was discovered in northern Illinois and has been moving south every year. During 2012, a confirmed infestation was found in Marion County. The Emerald Ash Borer can kill ash trees within two years after an infestation. Making matters worse, ash trees usually do not even show symptoms until at least 1 year after an infestation which can be too late or results in significant die-back of a tree.
At TurfGator, we have been monitoring this devastating invasive pest for the past 5 years. In a proactive approach and in knowing that healthy tress do not show early signs of infestation we started offering preventative treatments in 2013.
After significant research and advice from industry experts and state authorities we have chosen to offer our customers an annual basal trunk spray application which will penetrate through the bark into the tree's vascular system which is transported upward to where the emerald ash borer feeds. This method has been proven to provide systemic pest control of the emerald ash borer without invasive damage to a tree.
The insecticide application is required only once per year and needs to be applied during the month of June.
State Campaign – "Do not move firewood – Help stop the spread of the Emerald Ash Borer (EAB)" – You may notice public billboards with this message, this is because the Emerald Ash Borer is spreading at an alarming rate to new counties and new states every year. As with many trees that have died, people tend to cut up the wood for the use of firewood. However, in the case of Ash trees the Emerald Ash Borer can still be feasting on the tree underneath the bark and in moving the firewood to a new location the Emerald Ash Borer can emerge from the log and now spread to a new area. Currently, Illinois is a Federally Quarantined state by the United States Department of Agriculture. For more information on EAB detection and a map of confirmed infestation areas, please click here.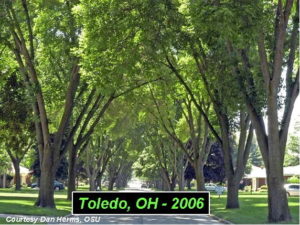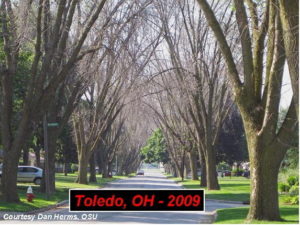 ---
Landscape Bed Weed Control
All too often, beautiful landscaped areas become unsightly as weeds begin growing within mulch or rocked areas. We have developed a successful 4 treatment program that will control weeds with the use of pre-emergent and post-emergent herbicides that is safe around annual and perennial plants and shrubs.