All too often, beautiful landscaped areas become unsightly as weeds begin growing within mulch or rocked areas. We have developed a successful 4 application program that will control weeds with the use of pre-emergent and post-emergent herbicides that is safe around annual and perennial plants and shrubs which can eliminate the chore of routinely hand picking weeds. Just as a pre-emergent can control weeds from growing within your lawn, there are products available to control the germination of weeds within landscape beds.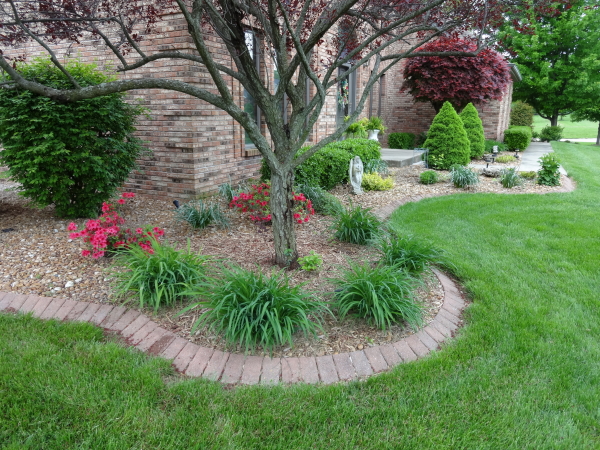 Landscape Bed Weed Control – Typical Service Dates:
Application #1 – Mid March – Early April
Application #2 – Mid May – Late May
Application #3 – Mid June – Early July
Application #4 – Mid September – Late September
* Weather conditions can alter the above schedule
---
Landscape Bed Weed Control FAQ's
Landscape Bed Weed Control
Expand All
|
Collapse All
1.

How often do you apply applications to control weeds within my landscape areas?

Our landscape bed weed control program consists of 4 treatments.

2.

Are the weed control products effective in mulch and rock landscape beds?

Yes, very effective in both.

3.

I was told a thick layer of mulch 3-4" would choke out weeds, why am I starting to see weeds everywhere within my landscape areas?

Freshly mulched landscape beds will choke out weeds for awhile but eventually the mulch will begin to decompose and the weed's seeds will start germinating within the much itself.

4.

Do you offer the service of hand picking weeds?

Yes, initially until weeds are under control with pre-emergent herbicide and post emergent herbicides or in case where the weeds are tangled within the landscape plants themselves, hand picking of weeds may be the best option and we can provide that service. Eventually, hand picking of weeds is generally not necessary.

5.

I receive your lawn care services and tree & shrub care, will the weeds in my landscape beds be taken care of with those services?

No, our lawn care services only targets weeds within the lawn and the products used are not safe for landscape bed areas. Our insect & disease control services for trees & shrubs is designed to control insects and diseases and will not control landscape bed weeds.